MEMESIS » Shape-Shifting Projection Surfaces
MEMESIS is an augmented kinetic sculpture that applies the principles of rigid origami to a screen that transforms to mimic the animation being projected upon it and vice versa. It challenges the notion that screens are passive, meant only to serve as static surfaces that catch the dancing lights from a projector. Here, the surfaces dance too, in tandem with the lights, casting their own shadows — both real and virtual — while influencing how the lights cast upon them move too.
The sculpture's geometry, as well as its folding mechanics, are based on a parametric pattern of miura-ori and v-pleat cell units that are actuated by servo motors embedded in the digitally fabricated support architecture. Nylon strings torque the panels into folded positions while suspended counterweights tug them back into place.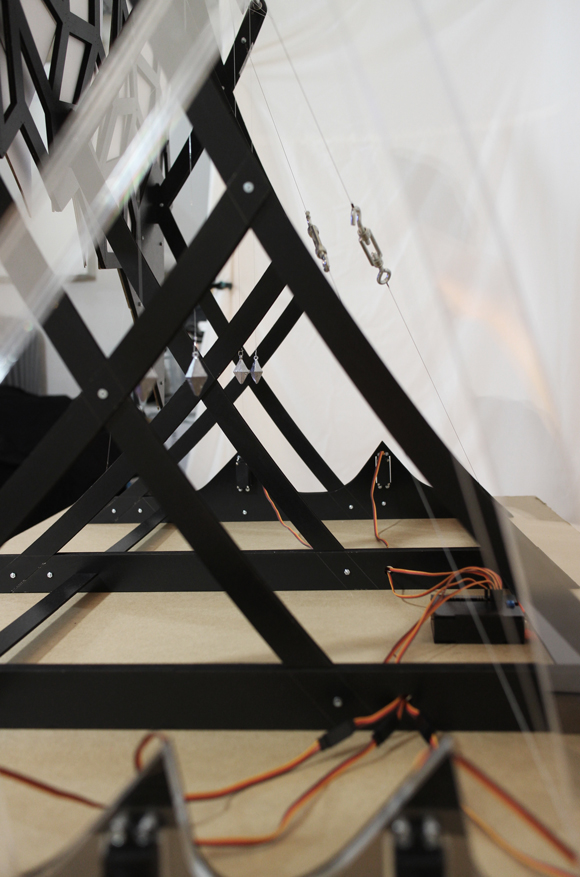 The motion graphics warp the viewer's perception of depth through the use of patterns and shadows. While the panels are flat, for example, virtual shadows give the viewer the illusion of depth, whereas when the panels are folded, stripes reminiscent of dazzle design give the viewer the illusion that they are flat.
[vimeo 133145387]
ADDITIONAL LINKS